Kings Langley
111 James Cook Drive,
Kings Langley, NSW, 2147

Mon-Fri: 9 am - 6 pm ,
Sat: 8 am - 1 pm ,
Sun: Closed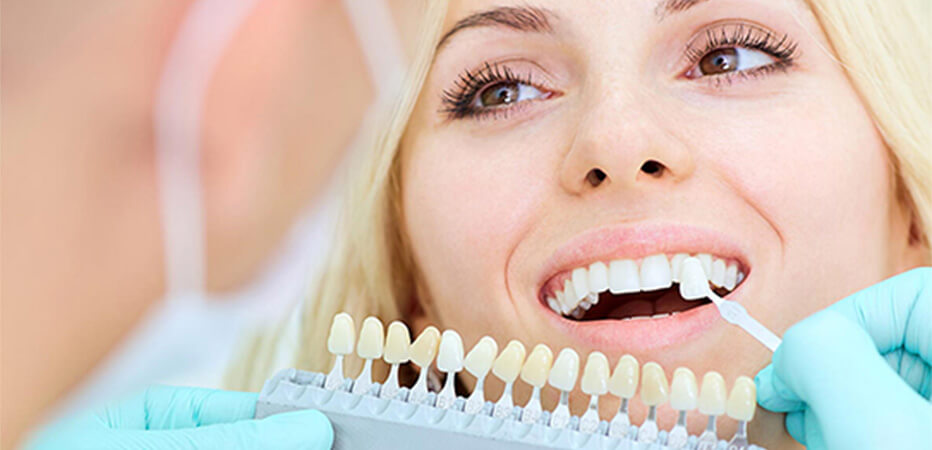 Dental veneers are composed of a thin shell that is placed over the front of the affected tooth to correct a variety of cosmetic concerns, such as chips, cracks or stains. Our team offers veneers made with a durable material to create an especially natural-looking tooth surface, producing a stunning smile transformation. Veneers are a versatile treatment option that can be used to improve the aesthetics of your smile.
Types of Dental Veneers
There are two types of dental veneers viz. (1) Made from porcelain and (2) Made from resin composite materials. Porcelain veneers are good at resisting stains compared to resin veneers. Besides, porcelain veneers imitate the light-reflecting properties of natural teeth better. It is better to consult our expert dentist about the veneer material that best suits your teeth.
How Do Veneers Work?
Dental veneers are custom-made thin wafer-like shells resembling tooth-coloured materials designed to cover the front surface of teeth to beautify your appearance. These shells are fitted to the front of the teeth changing their colour, size and shape.
What Is the Procedure Involved in Dental Veneer Treatment?
Dental veneer treatment will require three visits to your dentist – the initial visit for a consultation and the other two visits are needed to make and apply the veneers. Veneer treatment for one tooth or multiple teeth can be performed at the same time.
Diagnosis & Treatment Planning
In the initial consultation, you need to ask your dentist the result that you want to achieve. Your dentist will thoroughly examine your teeth to see if dental veneers are the right thing for you. Your dentist may take X-rays and make impressions of your teeth and mouth and discuss the procedure with you.
The Preparation for Dental Veneer Application
Your dentist will have to reshape the tooth surface, an amount almost equal to the thickness of the veneer, which needs to be added to the tooth surface.
If you want, your dentist can numb the area before trimming the enamel. Then, your dentist will make a model or impression of your tooth. This model will be sent to a dental laboratory that will make your veneer.
The dental laboratory will take around two to four weeks for making your veneers and then deliver them to your dentist. In the meantime, you can use temporary dental veneers.
Fixing Dental Veneer
Your dentist will place the veneer on your tooth and see its fit and colour, removing and trimming the veneer repeatedly to obtain an accurate fitment before cementing it to your tooth permanently. The colour of the veneer can be adjusted with the shade of cement your dentist will use. Your tooth will be thoroughly cleaned, polished and etched for implanting the veneer. Etching makes the tooth rough and facilitates a strong bonding process. A special dental cement is applied to the veneer, and then it is fixed on your tooth. Once the veneer is fixed appropriately, your dentist will reflect a special light beam on it to trigger chemicals in the cement, causing it to harden fast. In the final steps, your dentist will check your bite, remove any extra cement and make required adjustments, if any. Your dentist will advise you for a follow-up visit after a couple of weeks to check your gums and the veneer's placement.
Benefits of Dental Veneers
Dental veneers render a natural tooth appearance.
Veneers repair teeth cosmetically.
Gums endure porcelain well.
Porcelain veneers are resistant to stain.
Implanting porcelain veneers is an invasive procedure without much trouble.
Porcelain veneers are a lasting tooth whitening option.
Veneers do not need as much shaping as crowns require, yet the veneer is stable and looks better.
Veneers are a feasible treatment for enamel loss.
Veneers are an instant cosmetic fix.
Veneers are durable and lasting.
It is easy to maintain dental veneers.
Getting Dental Veneers in Sydney
If you want to get dental veneers in Kings Langley, call us at Kings Family Dental Centre on 02 9674 3491 and schedule an initial appointment with one of our experienced dentists.
Our DOCTORS
Meet
Our Team